The Blue Plate Special is The Thread Alliance's citywide public awareness and education campaign encouraging everyone to take action against child abuse and toward healing. Local restaurants are supporting our efforts by offering a "blue plate special" during April 2019,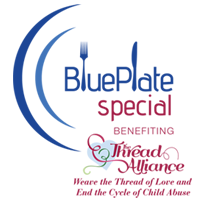 Child Abuse Prevention Month, and donating a percentage of the proceeds to The Thread Alliance.
Proceeds from The Blue Plate Special will help The Thread Alliance serve more families by providing training and workshops to community members; funding more research; growing The Thread Alliance's Safety Net; printing and distributing the book I'm Glad I'm Me: Weaving the Thread of Love From Generation to Generation; and maintaining the organization's online presence – a key tool in providing prevention, intervention, and treatment information and services. Most importantly, the proceeds help The Thread Alliance toward achieving the ultimate goal of ending the cycle of child abuse.

TEXT TO DONATE: BPS18 to 1-844-544-7171
SIGN UP & SUPPORT INFO:
THANK YOU to all our past Participating Restaurants!