The Blue Plate Special
By Drew and Jake
LA Chapter Founders and Event Co-Chairs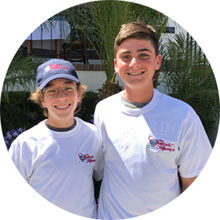 The Los Angeles Chapter of The Thread Alliance is a 501(c)(3) foundation whose mission is to raise awareness for child abuse. This charity was started by Sheila Aron.
We decided to bring The Thread Alliance to Los Angeles because we wanted to make a difference in our community for children who have been neglected or abused. No child should have to go through abuse from their parent or anyone else who they come in contact with.
According to DoSomething.org, approximately five children die every day due to child abuse. Even if one child is abused, that is one child too many.
Yet, unfortunately, it is far more children than one child who faces abuse and neglect daily, and these children need our help. We want to help them and hope our community wants to join us in our efforts.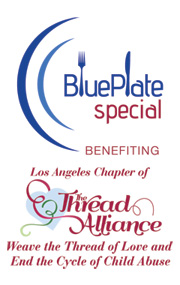 As part of our mission to raise money and awareness for child abuse, we are bringing the Thread Alliance's "The Blue Plate Special" to Los Angeles. The Blue Plate Special is The Thread Alliance's citywide public awareness and education campaign encouraging the people of Los Angeles to take action against child abuse and toward healing.
Several local restaurants have agreed to participate in the Blue Plate Special. Specifically, they have agreed to donate a percentage of their proceeds from one or more dishes between the dates of April 1-30, 2019.
The money raised by the "Blue Plate Special" will go to Children's Advocacy Centers of California.
SIGN UP & SUPPORT INFO: