The Blue Plate Special is The Thread Alliance's citywide public awareness and education campaign encouraging Houstonians to take action against child abuse and toward healing. Local restaurants are supporting our efforts by offering a "blue plate special" during April 2018,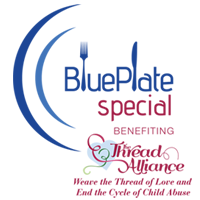 Child Abuse Prevention Month, and donating a percentage of the proceeds to The Thread Alliance.
Proceeds from The Blue Plate Special will help more families benefit from The Thread Alliance's safety net. Donations will enable us to maintain and enhance the Thread Alliance website – a key tool in providing essential information about resources and services to the community – and increase printing and distribution of I'm Glad I'm Me: Weaving the Thread of Love From Generation to Generation. Most important, proceeds from the Blue Plate Special will help The Thread Alliance mobilize the community to work together to prevent, and ultimately end, child abuse.
SIGN UP & SUPPORT INFO:
A Special THANK YOU to all our 2017 Media Sponsors!
For your convenience we've linked each logo to their website.